Gianni Ferrari GTS Hi-Dump
Gianni Ferrari GTS climbs slopes
Gianni Ferrari GTS collecting leaves
Gianni Ferrari GTS loading into a van
NO OTHER OUTFRONT MOWER IS SO POWERFUL AND COMPACT!!!
Its hydraulic power is the throbbing heart of GTS:
»   Smooth and effective 2 or 4 wheel drive hydrostatic transmission
»   The hydraulic PTO makes it extremely versatile and easy to use
»   Light and precise steering with power assistance
»   Handy and robust front hydraulic linkage with 2 arms
»   Hydraulic empting of the grass collector, high lift dump as well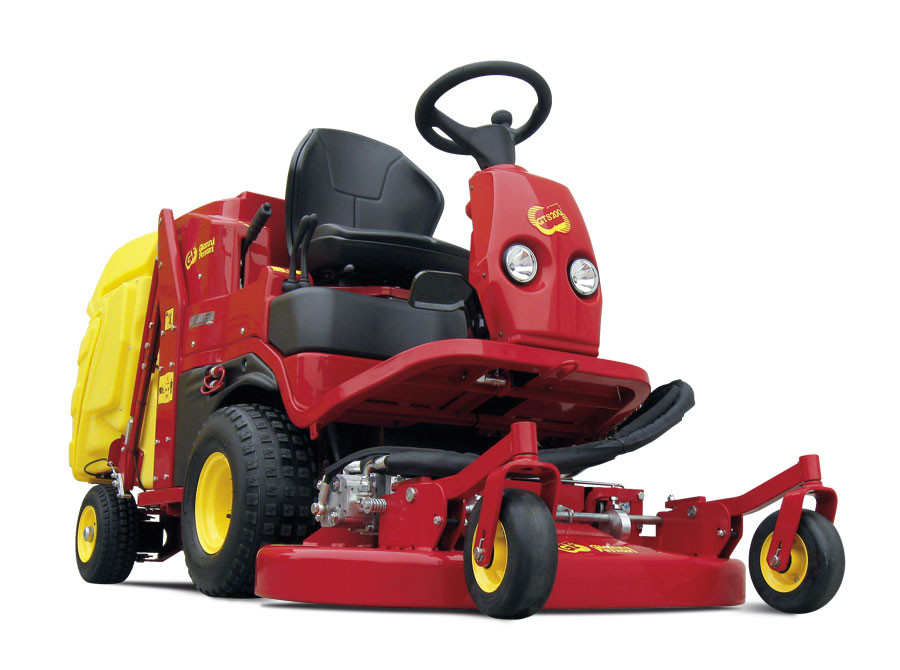 Front action
All equipment and cutting tools are in front of the machine to guarantee the utmost visibility and control for the operator. The front deck makes it so that the grass is cut before being trampled by mower wheels resulting in a clean even cut. Moreover, the front deck also allows to cut under bushes and makes finishing around trees, flower beds and walls easier.
Cut and collection
The GTS features counter-rotating blades that by imparting a strong aerodynamic thrust send the cut grass directly into the grass collector. The wide collection tube, thanks to its special shape, allows for an extra acceleration to the cut grass. The direct grass collection system prevents clogging even in tough conditions with tall, moist grass.
Hopper
Its large, 300-litre grass collector is made of shock resistant materials and it is equipped with air deflectors that ensure a greater filling and that directs dust backwards in order to offer favourable working conditions. Hopper unloading takes place by hydraulic cylinders, without efforts for the operator. Two versions are available:
• 80 cm high unloading, so that more grass collectors can be emptied on the same heap thus diminishing the unloading space, or so that grass can be unloaded directly inside a small garden trolley;
• 175 cm high dump lift, to unload the grass directly in the body of a truck or trailer.
Driver's position
GTS driver's position was designed to offer maximum ergonomics and comfort in use. The sprung seat can be adjusted lengthwise. The high backrest allows to work without tiring. The steering wheel is also ergonomic with a soft handgrip and knob. All controls are easy and user friendly with ergonomic levers and shaped handle.
Versatility
Besides benefits such as comfort and effectiveness, the equipment arrangement on front offers great versatility. The range of tools especially developed for GTS allows for a all-year-round use. Replacing equipment is very quick and easy as it does not require the use of tools. It can be carried out in just a few seconds thanks to the quick-release couplings and quick hitch ends of the front linkage.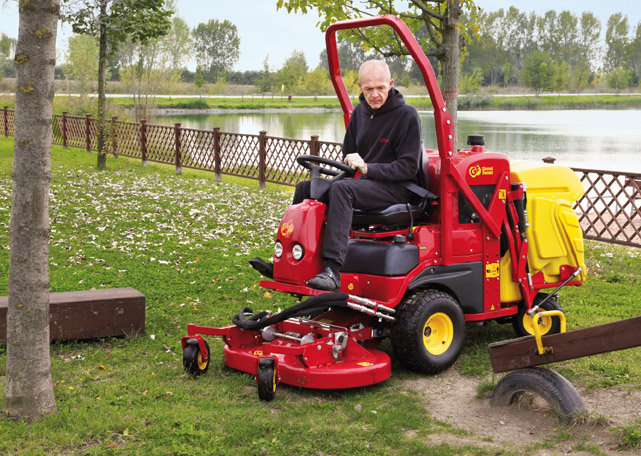 Dimensions
The exclusive combination of the front deck and the direct collection allows to keep dimensions to a minimum in favour of manoeuvrability. GTS offers the ideal combination of versatility and productivity: the well designed width of the front equipment allows to pass through narrow spaces without jeopardizing productivity.
You can choose between two mowing deck with collection system: the 96 cm version that easily passes through gates and narrow spaces and the 112 cm version for higher productivity. The hydraulic 2-arms front linkage allows to easily lift all equipment and get over kerbs and obstacles.
Transmission
The hydrostatic transmission is available in the 2 or 4 wheel drive versions. In 4WD models, transmission is automatically operated by the patented HTC™ (Hydrostatic Traction Control) device that gives several advantages, among which:
• it intelligently varies the traction supplied to each rear wheels to prevent them from damaging the turf during turning operations;
• guarantee constant drive on all 4 wheels for operator safety.
The servo-assisted pressure divider subdivides the torque on both wheels in order to have the effect of a differential locking.
Engines
GTS is equipped with gasoline and diesel engines. The gasoline twin-cylinder engines are equipped with an air filter that has a dual filtering element and a pressure lubrication system with oil filter. These features increase the protection and life of the engine. For maximum performance a powerful 3-cylinder, liquid cooled 22 HP diesel engine is available. The oversized radiator with anti-clogging fin is raised and keeps clean longer also in difficult conditions. The filtering system with self-cleaning, cyclone-type pre-filter protects the motor and lengthens its life.
Reduced maintenance
The direct collection of grass is a remarkable advantage in terms of machine simplicity and less parts undergoing wear and requiring replacement. The hydraulic PTO, instead of mechanical power take off, does not require the routine maintenance typical of mechanical transmissions (belt tensioning, greasing of cardan driveshaft, tensioners and bearings, etc.) The PTO quick couplings are flat face-type for easy cleaning. The over-dimensioned hydraulic components guarantee the reliability of the system and keep temperature and pressure low for a longer oil life and thus lower maintenance costs.